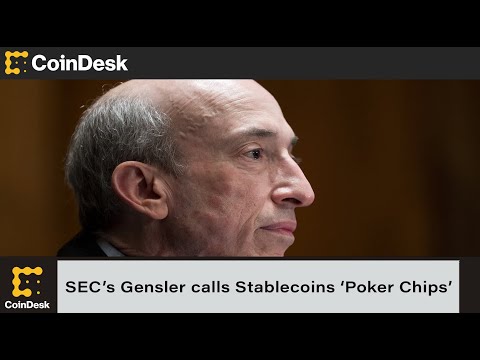 In a conversation with the Washington Post Tuesday, SEC Chairman Gary Gensler said stablecoins are the "poker chips" in the "Wild West" that is the crypto landscape. He said he also doesn't see much long-term viability for cryptocurrencies, among other remarks about crypto trading and lending platforms, securities, and regulation. "The Hash" panel discusses what to make of Gensler's comments and what it could signal about the future of blockchain regulation in the U.S.
#cryptocurrency #digitalfinance #finance #bitcoin #crypto
Subscribe to CoinDesk on YouTube:
https://www.youtube.com/user/CoinDesk?sub_confirmation=1
Site:
https://www.coindesk.com
Twitter:
https://www.twitter.com/coindesk
LinkedIn:
https://www.linkedin.com/company/3104779/admin
Instagram:
https://www.instagram.com/coindesk
Facebook:
https://www.facebook.com/CoinDesk
Newsletters:
https://www.coindesk.com/newsletters
CoinDesk Podcast Network:
https://open.spotify.com/show/2jyIhkvAQhed8AWDZiPpSP
Markets Daily Crypto Roundup:
https://open.spotify.com/show/7sDXM8BlxsUqzL2IqmLqwE
CoinDesk is the leading digital media, events and information services company for the crypto asset and blockchain technology community.