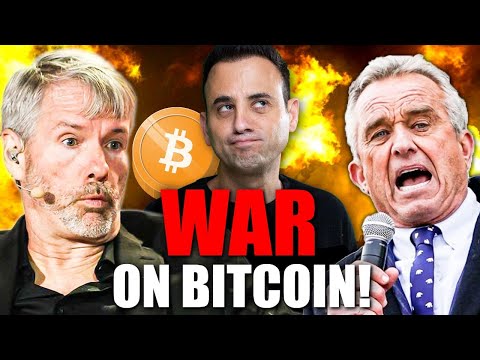 A war has broken out on the Bitcoin network - causing Bitcoin to BREAK! These expert interviews confirm who broke Bitcoin and how bad this could really get for the network!
🔥PASSPORTS FOR CRYPTO
👉
http://www.passportsforcrypto.com/
Offering a unique Citizenship by Investment on the Caribbean island of St.Kitts.
Acquire a second citizenship & passport using crypto currency!
Including Visa free access to over 157 countries worldwide including EU & UK!
Timestamps:
00:00 Crypto Banter at Bitcoin 2023 Miami
03:15 Understanding the Bitcoin Movement
04:39 Robert F. Kennedy Jr. Promoting Bitcoin
06:52 Bitcoin Ordinals & BRC20 Tokens
08:51 Arthur Hayes - CIO Maelstrom
14:29 Udi Wertheimer - Taproot Wizards
19:32 Max Keiser - Bitcoin Legal Tender
23:00 Bitcoin, Commodities & Crypto Regulations
26:00 Samson Mow - CEO Jan3 on Bitcoin Ordinals
29:00 Smart Contracts & NFTs on Bitcoin
30:00 Ben Cowan - Bitcoin Dominance & Blue Chips
34:33 Bitcoin 2023 - Banter Fam in Miami
36:15 Mike McGlone - Crypto Market Action
38:30 Bitcoin Price Targets - Rug Pull Liquidity
39:32 David Marcus - CEO Lightspark - BTC Ordinals
42:20 Dan Held - Bitcoin Educator
45:54 Pete Rizzo - Editor Bitcoin Magazine
48:20 Bitcoin Politics Correlation
49:38 John Zuliani - CEO Passports for Crypto
52:25 Adam Lowe - Bitcoin CP - Arculus Wallet
from Crypto Banter - YouTube https://www.youtube.com/watch?v=EHMk5lMEkfE
via
Blockchained.News