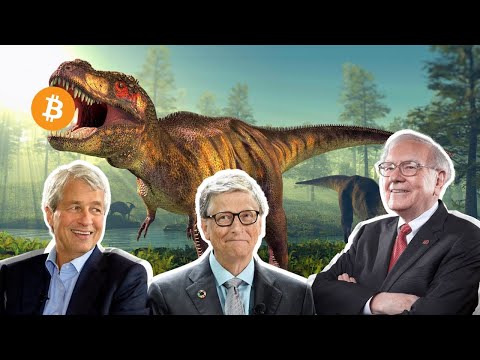 Warren Buffett did not buy Tesla when the opportunity was screaming in his face. So perhaps his opinion on bitcoin doesn't mean very much after all. Buffet publicly criticized Elon Musk's leadership, but clearly, the CEO of Tesla is doing something right!
We also discuss the perspectives of other dinosaurs: Bill Gates, Charlie Munger, Nouriel Roubini, and Paul Krugman.
References:
https://twitter.com/altcoinbuzzio/status/1227139450385207296
Warren Buffet: Bitcoin Is a 'Delusion' But Blockchain Is 'Ingenious'
https://www.coindesk.com/warren-buffet-bitcoin-is-a-delusion-but-blockchain-is-ingenious
Bill Gates Would Love To Short Bitcoin, So Why Doesn't He?
https://www.ccn.com/bill-gates-would-love-to-short-bitcoin-so-why-doesnt-he/
People Who Hate Bitcoin
https://news.bitcoin.com/3-people-who-hate-bitcoin-with-a-passion/
Warren Buffett thinks Elon Musk has 'room for improvement' as Tesla's CEO
https://www.cnbc.com/2019/04/12/warren-buffett-on-tesla-ceo-elon-musk-he-has-room-for-improvement.html
Warren Buffett: Apple investing in Tesla is a 'very poor idea'
https://www.marketwatch.com/story/warren-buffett-apple-investing-in-tesla-is-a-very-poor-idea-2018-08-30
Buffett knocks Elon Musk's plan for Tesla to sell insurance: 'It's not an easy business'
https://www.cnbc.com/2019/05/04/warren-buffett-on-tesla-id-bet-against-any-company-in-the-auto-business.html
---------
#Bitcoin #Cryptocurrency #Blockchain #BTC #ETH #Enjin #Tomochain #Crypto.com #Electroneum #Cardano
---------
New Weekly CryptoTag #Giveaway
- Simply Subscribe to Altcoin Buzz and drop a comment on the Video
- Winners for this weekly giveaway will be announced on every Saturday
---------
Altcoin Buzz Free Newsletter:
http://eepurl.com/dnIEz1
Sign up for Crypto.com and We Both Get $50 USD
https://platinum.crypto.com/r/ab
Sign up for eToro
https://tinyurl.com/yxwa8vbt
---------
Visit our website:
https://altcoinbuzz.io
Connect with us on Social Media:
Twitter:
https://twitter.com/Altcoinbuzzio
Facebook:
https://www.facebook.com/altcoinbuzzio/
Telegram:
https://t.me/joinchat/DLi8Ug8negQrbwYO-oqNRA
----------
NOTE The information discussed on the Altcoin Buzz YouTube or other social media channels is not financial advice. This information is for educational, informational and entertainment purposes only. Any information and advice or investment strategies are thoughts and opinions only, relevant to accepted levels of risk tolerance of the narrator and their risk tolerance maybe different than yours. We are not responsible for your losses. Bitcoin and other cryptocurrencies are high-risk investments so please do your due diligence and consult the financial advisor before acting on any information provided. Copyright Altcoin Buzz Pte Ltd. All rights reserved.